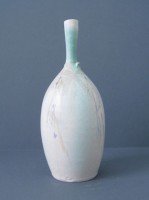 About
Hugh West
At seventeen I moved to Hereford to study at Hereford School of Art & Design, transferring to Redruth School of Art to take a further ceramics course for which I was awarded a diploma with distinction. After work experience with several established potters, I opened my own pottery in Newquay in 1971.

An opportunity arose in 1975 to begin a large production pottery in Devon on the Flete estate. After this in 1982, I took my family to La Borne in the department of Cher, France, where an ancient pottery village still survives, repeating the traditional forms and ways of wood firing important to that region of central France, using an anagama kiln.

In 2000 I went again to live and work in La Borne.

Exhibitions and Memberships: These include numerous one-man shows in Britain; collective shows in Europe, Japan, the USA, Saudi Arabia, South Korea. I was a member of the Cornwall Crafts Associations, the West Country Potters Association and the Penwith Society of Arts. I became a member of the Association of Potters of La Borne.

We returned to Cornwall in January 2014 and in 2017 Karen Carlyon joined my studio.

Karen began to express her creative ideas by taking watercolour classes and later ceramics. She spent several years with Paula Downing, hand building large sculptural pieces using various clay bodies. She now fires her wheel thrown porcelain pieces in a gas kiln; the inspiration for her work comes from our coastline and long spells watching the movement and colours of the sea. Her main production is indivdual studio pieces, she also takes commissions.

In 2020 we began a joint venture, Toll House Pottery, to run alongside our individual studio work. Together we work exclusively in porcelain with exciting high temperature glaze colours, the result of years of research and experimentation.